Where Have All The Flowers Gone?
April 4, 2020 / Saturday @ 7:30am / cloudy, breezy, 41°

---

Do the flowers, trees, and shrubs continue to bloom if there's no one here to see them? Botanical gardens say they do using catch phrases such as "Life Blooms On" or "Beauty Blooms On." However because most Gardens are closed to visitors, the most Gardens can offer now are virtual visits.
The virtual visits show what we're missing by showing lots of vivid eye candy. A site that combines that beauty with a touch of bizarreness is one from Longwood Gardens. On Instagram, Longwood displays a cluster of Tower of Jewels (Echium wildpretii) Seven-foot tall spikes are not unusual for these flowers. Once I got over being stunned by their appearance, I started to grin as I realized how absolutely silly and outlandish they are. Too bad they don't seem to care much about social distancing though.
For fast-moving ride, try the Quick Look tour of the Lewis Ginter Botanical Garden in Richmond, Virginia. By using breakneck speed video, you see the Garden's 50 acres of blooms and plantings in 1.28 minutes.
The most unusual video clips are the drone tours offered by the Lewis Ginter Botanical Garden and the Missouri Botanical Garden in Saint Louis. Both feature a leisurely glide over clouds of flowering Japanese Cherry trees as seen through a drone's eye.
For both entertainment and information, visit the guided tour of the Orchid Show at the New York Botanical Garden. It's a 20-minute tour of the show led by the show's curator. Along the way there's information about the orchids and the floral designs of the show's creator Jeff Leatham.
As much as I like the virtual visits, they tantalize more than satisfy. They're much like seeing pictures of art works or looking at photos of people you can't visit. Pictures and videos lack the richness, spontaneity, and delight of being there. They show what they show very well, but they can never show the things that might intrigue visitors or pique their curiosity. This morning I've been thinking about the Garden walk I couldn't take and wondering how far along the Blue Globe Thistles in the Baer Court are, and whether the cold-hardy patch of bananas (Musa basjoo) in the Chinese Garden made it through the winter. These aren't the stuff of videos. But they are the stuff that I miss most by not being here.
A Troubled Time
March 14, 2020 / Saturday @ 7:30am / steady rain, east wind, 41°

---

UPDATE: Tuesday, March 24, 2020. Since this entry was written, all of the twelve major botanical gardens in the United States are closed to visitors.
This notice was on the video display monitor this morning. The botanical garden where we walk along with public gardens everywhere are letting their visitors and staff know that business as usual is on hold as long as the corona virus remains a risk.
I looked at the steps a dozen large botanical gardens and other public gardens in all parts of the country have taken. None of them are ignoring the corona virus. On social media and on their home pages, they all begin by affirming that their top priority is the health and safety of their visitors and staff. Then they go on to mention the steps they are taking to respond to the virus.
Most mention things like stepping up cleaning and disinfecting, installing more hand sanitizing stations, advising or requiring staff or volunteers who are sick to stay at home. Some say that they are cancelling out-of-town trips by their staff members. One garden says that as long as the virus remains, it is instituting paid time-off and work-from-home policies for certain employees.
About half of the gardens I looked at also offer advice to visitors. Here's a sample: Stay at home if you're sick and logon to the interet and take a virtual tour of the garden. Wash your hands more often. Cover your cough or sneeze. Avoid touching your face. A couple of the gardens also suggest that this would be a good time to make a contribution to help get the gardens though this tough time.
Where the gardens differ is how they are changing their operations. The majority of the gardens are cancelling all scheduled events that attract large groups of people. Mentioned specifically are classes, tours, lectures and programs, flower shows, private parties, fund raising events, festivals, and special events. Some of the gardens are also closing their conservatories, museums, and libraries, gift shops, and restaurants.
Two gardens have closed completely – Longwood Gardens in Pennsylvania and the Cleveland Botanical Garden. However, they invite people to share the coming of spring with them through their web page and social media sites. They also offer assurances that the plants and animals under their care will continue without interruption.
Gardens that have curtained their programming, but remain open for walking mention the renewed importance continuing to have a place where people can relax and find beauty and tranquility during these stressful times.
Nearing the Tipping Point
March 7, 2020 / Saturday @ 7:00am / clear,southerly breeze, 28°

---
It's still subtle. Little spots of color are like cutouts from the bed of mulch above them. Look down or better still, kneel down for a closer look. Splotches of yellows, purples, blues, and whites have started to compete with the browns and gray. Snow crocuses, dwarf irises (Iris reticulata), squill, and snowdrops are all here this morning. The eye-filling colors and blooms that come with masses of tulips, daffodils, and magnolias aren't here yet. But they're coming and they're close.
Looking for subtly while wearing gloves and heavy coats isn't for everyone. But inside, forget subtly. There are blooms and crazy colors everywhere. So much so that I heard one visitor say, "I can't image growing things so beautiful." The botanical garden's annual orchid show is in full swing. It seems every person who sees the display is compelled to put a camera into an orchid's face. Understandably so. Nobody who witnesses such uncanny beauty wants to leave empty handed.
I've visited the orchid show at least a half dozen times and each time I take a picture of this orchid. It's a Cattleya hybrid (Laeliocattleya) named 'Helen B. Lawrence.' It's my pick of the show. HBL has a lot in common with 'Santa Barbara Sunset,' a Laelia orchid that's been a favorite of mine at these shows for many years. It has yet to make an appearance this year but there's still time. Orchids will come and go until the show closes on March 22nd.
A few miles from this botanical garden there's another indoor flower extravagance going on. It's the Art Museum's annual weekend event called 'Art in Bloom: A Celebration of Art and Flowers'. In it floral designers create floral arrangements that try to mimic or capture the spirit of a nearby painting or a piece of art. Here's one of the prize winners: It's done by Laura Steube, a floral designer at Belle Fleur Floral Design in St. Charles. The painting is 'Christ and the Woman Taken in Adultery' by Mattia Pretti, a 17th Century Italian artist.
Mosses are about as far away as they could be from big and flashy. This patch of moss in the Japanese Garden seems to broaden and become more luxuriant as the days get longer. When I read that the botanical garden says there are 12,800 accepted species of mosses, I thought about Alma, the self-made taxonomist in Elizabeth Gilbert's book The Signature of All Things. Alma chose to become an expect on mosses because mosses were quiet and tiny and slow, while their numbers were immeasurable large. Gilbert writes, "Best of all, Alma realized she would never learn everything about mosses – for she could tell already that there was simply too much of the stuff in the world; they were everywhere and they were profoundly varied. . . It meant that Alma had work stretched ahead of her for the rest of her life. She need not be idle. She need not be unhappy. Perhaps she need not even be lonely. She had a task, She would learn mosses."
I found a tulip bulb lying on a walkway outside a mall in early January. It had no tunic, and it had gouge on one side that destroyed part of its outer covering and a lot of the scales meant to nourish the young bulb. The bulb did have a bit of growth sprouting from its tip though, so I took it home, potted and watered it, and then put it under a bag in my garage to wait for spring. Two weeks ago I noticed some roots coming growing through the pot's drain hole, so I brought it in. Today it bloomed.
Out of Harm's Way
January 18, 2020 / Saturday @ 7:30am / drizzle, sun, then clouds, wind, 43°

---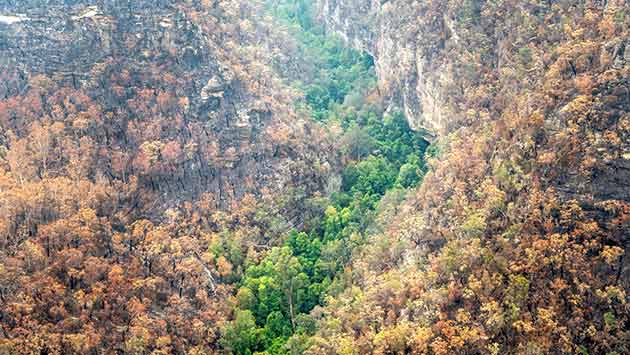 This picture is all over the internet. It was taken from a helicopter over a gorge where the last known stand of Wollemi Pines (Wollemia noblilis) grow. Fire fighters saved the trees from the wildfires that blackened 40,000 square miles of Australia this month. While planes circled the area dropping flame retardant, firefighters on the ground tapped into a river to moisten the soil to slow the approaching fire.
Newspaper reports call the Wollemi Pine the 'Dinosaur Tree' because it was thought to be extinct. The leaves from the tree are in fossil records of the Jurassic Period 200 million years ago. Then about 25 years ago a park officer discovered a stand of living trees. To protect the species, their exact location was kept secret while millions of seeds were collected and propagated by botanical gardens and commercial nurseries. The idea was that the best way to protect this rare and endangered tree in the wild was to make it less rare and more widely available commercially.
A pot of Wollemi Pine is growing in the glasshouse in the botanical garden where I walk. The little tree descends from that single stand of tall trees saved from the fires in Australia.
A travelling sculpture exhibit that's been on the road since 2014 at botanical gardens and sculpture parks around the country is coming here. The exhibit called Origami in the Garden will open in early spring and will go on through early fall. The show was developed by Santa Fe artists Jennifer and Kevin Box. The inspiration for each of the more than 20 large-scale sculptural pieces was a small paper origami. Works on display here will include flying birds, floating boats, painted horses, paper airplanes, butterflies, and a towering monument to peace made of 1000 stainless steel origami cranes.
Catch them now. These tiny winter aconites (Eranthis hyemalis) that seem to flower just to spite the season have just started to bloom. These have started to bloom in the bulb gardens exceptionally early. Soon there will be many. Then just as soon, they will fade and disappear.
Who Would Have Thought?
January 4, 2020 / Saturday @ 7:20am / cloudy, chilly northwest wind, 35°

---
Maybe it's been here for a while and I hadn't noticed. There's a bay laurel shrub (Laurus nobilis) in the Linnean greenhouse. It's hard to miss. It's tall enough to need an oversized pot, and it's near the walkway. Still on a quick walk though, its shiny green leaves look like just another of the citruses that are wintering over. I only noticed it because it has lots of buds. I knew that the Greeks and Romans used laurel leaves to recognize achievement, to honor victory, to foretell the future, and to console the Gods. I didn't know that some believed that wearing a laurel wreath during a thunder storm would protect them from being stuck by lighting. I also never realized that the leaves of the laurel when dried become the Bay Leaves that McCormick says adds a "warm undertone" to soups and stews.
Add another thing I never knew about: for months I've been fascinated by the neon colored orange, red, pink and yellow domes perched atop the miniature green cactuses that I see in the botanical garden's shop and at the big box stores. I thought they grew that way. They don't. Their dome comes from one type of cactus (Gymnocalycium mihanovichii 'Moon Cactus'). Their supporting bases are from another. (usually Hylocereus). They're easy to make. Begin by twisting or slicing the dome from a Moon Cactus. Then slice the top off the green base cactus. Finally, put a rubber band around both of them until the two become one. The fusing and growth takes about 10 weeks, although I've seen moon cactuses in some big box stores that take even less time. Their domes are made of plastic. Here a how to do it video.
The botanical garden's annual holiday light show comes to an end this evening. It's time. The green pines are turning brown. Some light strings have gone dark. The workers at their outdoor concession stands have left their boxes of hot cocoa mix, bottles of wine, and cans of beer unsecured. The saddest sight is floating in a reflecting pond. One of seven swans aswimming has lost its head.
I found this tulip bulb lying on a walkway outside a mall. It has a nasty gash on one side that destroyed part of its outer covering and a lot of the scales meant to nourish the young bulb. The bulb does have a tiny bit of growth sprouting from its tip, so I decided to take the injured thing home and pot it. Today it's under a bag in my garage waiting for spring. As am I.